Sydney, Rock and Reef

Sydney, Rock and Reef
Sydney, Rock and Reef is the ideal embodiment of Australia's most unique and spectacular sights. The Sydney Opera House and Harbour Bridge highlight this internationally agreed upon premier city. Next, journey into the Outback to find Uluru - the sacred monolith of the local Aboriginals, rich in geological and cultural significance for this desert land. If you're feeling a little parched, water is on the way! Cairns, your final destination, is an aquatic heaven and home to the Great Barrier Reef and the Daintree Rainforest. Fill up on this all-you-can-eat, scenic buffet!
Your Itinerary Includes:
Roundtrip airport transfers
3 nights Sydney
Sydney city tour
2 nights Uluru
Uluru Sunset tour
Kata Tjuta Sunrise tour
A Night at Field of Light
4 nights Palm Cove
Great Barrier Reef tour
Daintree Rainforest tour
Meals: 1 breakfast, 2 lunches, 1 dinner
Adventure and Active
Educational and Learning
Family Vacations
Romance and Honeymoons
Safari, Animals, and Wildlife
Sun and Sand
December 01, 2022
through
January 01, 2023
Itinerary Map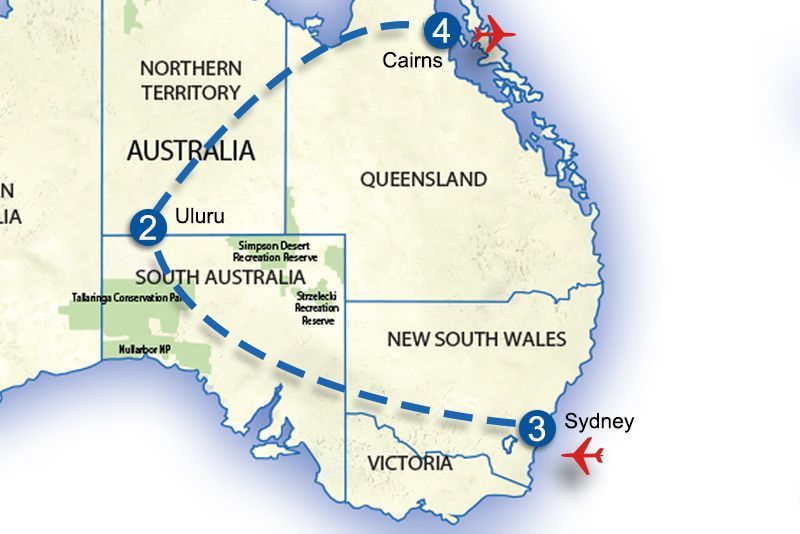 Loading Itinerary Content...
Additional
Offers

December 01, 2022

to

January 01, 2023

June 01, 2022

to

September 30, 2022

October 01, 2022

to

November 30, 2022

February 01, 2023

to

March 31, 2023
Swain Destinations: Sydney, Rock and Reef

PARKROYAL Darling Harbour,Superior, Sydney
Desert Gardens,Superior, Uluru (Ayers Rock)
Peppers Beach Club and Spa Palm Cove,Superior, Palm Cove


Standard (3*) to (3 1/2*) Offering limited facilities and services, these are moderate rooms with private ensuite bathrooms that offer exceptional value for money for the price conscious traveler.

Superior (4*) to (4 1/2*) These hotels are typically better equipped with more comfortable accommodation, and are often in a fairly central location to major sightseeing.

Deluxe (5*) Boasting luxurious and spacious surroundings, these accommodations offer the highest level of international quality accommodation and service. Typically with exquisite décor, exceptional service and superb award winning restaurants.

Luxury (5*) + Premier accommodations in choice settings offering exquisite surroundings, the finest guest services and indulgent amenities. These properties are often one of a kind and are ideal for discerning travelers.
Swain Destinations: Sydney, Rock and Reef

An Evening at the Opera House
Whether it is theatrics, a musical, opera, contemporary dance, ballet, or any style of music, let us package a tour and performance, and perhaps even include dinner for a night you?ll long remember.

Blue Mountains Tour
Depart Sydney for the 90 minute ride to arrive in the heart of the Blue Mountains region. Visit Scenic World for a range of experiences; the thrill of walking on air with a see through glass floor showing views of the valley 200 meters below or ride the steepest railway in the world, with an incline of 52 degrees. After a stroll through the ancient rainforest, enjoy spectacular views of the Three Sisters and vast expanse of the Jamison Valley. The next stop is Echo Point, to witness the blue haze and the vast expanse of the Jamison Valley. Hear the Dream Time Stories and experience for yourself the raw magic the Blue Mountains creates. You are taken to a hidden location that provides fantastic views of the Jamison Valley away from the crowds. On the return to Sydney, venture to Featherdale Wildlife Park, Sydney's ultimate wildlife experience. The multi award-winning Park has the world's largest collection of Australian native animals. Get up close to a Koala or feed the baby Wallabies. There are also Emu's, Wombats, Tasmanian Devils, Crocodile & countless number of bird species. End the day with a cruise on the Parramatta River back to Sydney city. Enjoy a relaxing yet uplifting cruise as you view the Opera House and Sydney Harbour Bridge before disembarking at Circular Quay.

Bondi Surfing
Be amazed at how easy, safe and enjoyable it can be to learn to surf! This popular beginner course teaches you how to safely get out and up onto your first wave. Choose a small group setting of up to 6 people, or select a private option for plenty of hands-on help. Build your surf knowledge, confidence and cultivate your surfing technique. This is ideal for first-time surfers or those seeking to refresh or refine their basic technique. The lesson is two hours long and includes all equipment ? soft safe surfboards, summer or winter wetsuits, UV rash vests, sunscreen and zinc cream.

BridgeClimb
For those seeking excitement, the best view in town, and a special feeling of achievement, join the exhilarating climb of one of Sydney's most famous landmarks. On the thrilling and totally safe Bridge Climb adventure, you may ascend to the top of the Bridge and stand over 427 feet above sea level. The view is breathtaking and you'll also have a close encounter with one of Sydney's historical gems and an engineering wonder of the world. The pace of the climb is leisurely and follows stringent safety standards so you will feel comfortable throughout the experience.

Cruise Like a Local
Cruising on Sydney Harbour is a quintessential Australian experience. With a minimum of two and a maximum of ten passengers, 'cruise like a local' aboard a luxurious 52' Pacific Motor Cruiser. Perhaps you fancy yourself as an angler? What about taking the sea kayaks and rowing to a secluded beach? Would you like to go for a swim, or would you just prefer to take your chilled glass of Australian wine and relax on the luxurious sun pads? Jump aboard and explore this magnificent, world-renowned harbor with Sea Sydney Cruises.

Hunter Valley Tour
A trip to Sydney is not complete without a visit to the world-class wineries of the Hunter Valley! One of Australia's oldest wine producing areas, the Hunter boasts over 70 wineries, each providing a unique and memorable wine tasting experience. Descend into the Hunter Valley to swirl, sniff and sip some exceptional wines from a few of the very special boutique wineries in the area. Stop at some of the interesting towns of the region and enjoy tastings at selected wineries. Chat to the owners and wine-making experts whilst admiring the quaint and picturesque surrounds. Lunch is included.

Rocks Walking Tour
Take a 90 minute guided walking tour of Sydney's Historic area known as 'The Rocks' at a relaxed pace. The story of the first settlement of the colony of New South Wales in 1788 will be brought alive while you are entertained with stories of rascals, rats and restoration. See some of Sydney's oldest dwellings, shops old and new, homes of the ?well-to-do? and the cottages of the working class. Visit pubs and hotels once frequented by the locals and sailors alike and the haunts of cut-throats and rogues. The many narrow alleyways, sandstone stairs and a beautiful church combine to weave a fascinating tapestry of life in past and present times.

SEA LIFE Sydney Aquarium
It is a unique experience to get up close with the marine life in the touch pools, and to take a special behind the scenes look at the massive shark tanks. Hear amazing stories about some of our fascinating animals, such as the platypus or our saltwater crocodile, and take a special look at the largest Great Barrier Reef exhibit in the world, with the opportunity to see how live coral is grown. See also the holding and breeding tanks. The tour concludes with the opportunity to feed the tropical fish and other inhabitants of the reef, and a souvenir guide book is included.

Seaplane Flight and Cottage Point
Sitting at your table with one of Australia?s best wines in hand and the gentle waters of the Hawkesbury River lapping beneath you it is hard to imagine that a mere 20 minutes ago you were in the heart of the hustle and bustle of Australia?s biggest city. The award winning Cottage Point Inn restaurant is renowned for offering exceptional modern Australian cuisine in beautiful and tranquil surrounds. Upon landing we taxi the aircraft right to the restaurant?s seaplane dock, where a warm welcome awaits. After a leisurely three course a la carte lunch, re-board your aircraft and return to Sydney, flying over the Harbour Bridge and Opera House before landing at Rose Bay. Lunch is included.

Sydney City Tour
See the highlights of downtown Sydney before venturing into some of the exclusive harbor-side residential areas where we stop for a 2-course lunch at the Vaucluse House Tea Rooms; one of Australia?s most historic houses that was home to the father of the Australian Constitution.

Sydney Classic Bicycle Tour
See the heart of Sydney and its entire splendor on 2 wheels! Visit the Sydney Opera House, Sydney Harbour, the Sydney Harbor Bridge, Darling Harbour, the Royal Botanic Gardens, Hyde Park, the Anzac War Memorial, Chinatown, AMP Tower, Parliament House, Queen Victoria Building, and over 30 more great attractions! Stop at a friendly pub and mingle with the locals.

Sydney Harbour Cruises
The Sydney Harbour Bridge, the world renowned Opera House, Mrs. Macquarie's chair; just some of the sights to see while cruising on Sydney's famous harbor. Choose from a coffee cruise, lunch cruise or enjoy an evening cruise as you dine while floating past Sydney's stunning harbor.

Sydney Harbour Lights during Vivid
Be a part of Vivid 2015 with Sea Sydney Cruises, your exclusive small group cruising specialist. Starting May 22, 2015, enjoy nightly scheduled departure cruises on a private 52 foot Motor Cruiser, with maximum 16 passengers on board. Enjoy light canapés and unlimited beverages as you cruise the magnificent Sydney Harbour marveling at the shoreside projections along the foreshore from Fort Denison, Circular Quay, The Rocks, Walsh Bay and Darling Harbour from the water. Become part of Vivid Harbour Lights 2015 aboard Calypso which is decorated with brilliant LED lights that change color as we enter different parts of the harbor. These ?color precincts? will be computer-controlled using Intel technology and the latest in sat-nav geo-positioning. All cruises will cruise to Darling Harbour; one of Vivid?s most colorful precincts, offering a range of entertainment and fun for the whole family. Disembark at King St Wharf and be amazed with Vivid Aquatique; featuring computer controlled dancing water jets in a ?magic wall? of light and water, specialized sculptural fountains inspired by Louis XIV?s ?Water Garden? at Versailles, four giant water screens and large-format video projections, four high-powered full color lasers and, for some shows, marine fireworks. Or cruise back to Campbells Cove for disembarkation where you can enjoy a harbor foreshore walk through Circular Quay. Vivid Sydney begins on May 22, 2015 and runs until June 8, 2015.

Taronga Zoo
The VIP Gold Tour is an exclusive small group tour of the Australian Section of the zoo and a 'behind the scenes' look at the hand-raised Australian Animals. There are plenty of excellent photographic opportunities and the expert guides teach visitors all about Australia?s unique animals.

Taronga Zoo Aboriginal Discovery Tour
Set on traditional Cammeraigal country, Taronga Zoo has many amazing Aboriginal stories to tell. Nura Diya, meaning ?this country or camp?, takes you on a journey through Taronga as you hear stories of Australian wildlife told through the perspective of an Aboriginal guide, with tales of their shared history with the animals and land. Developed with the Indigenous community and led by an Aboriginal guide, you will hear their own personal stories and discover their important connections back to the land, animals and nature. See Australia?s amazing animals in a new light as you discover the binding relationships between flora and fauna and hear stories of the Dreamtime, describing the creation of creatures and the landscape. Learn the centuries-old traditional uses of plants for food and medicine while enjoying interactive experiences with unique Australian wildlife including koalas, kangaroos, wallabies and a vast array of Australia?s birds. Ideal for those that want to not only come up-close to wonderful Australian animals, but also want to discover more about Australia?s rich cultural heritage.

The Backstage Tour - Celebrating Vivid LIVE
To celebrate Vivid Sydney Festival, we are offering you the rare opportunity to take the VIP backstage experience in intimate groups on The Backstage Tour - Celebrating Vivid LIVE. Our tour guides will lead you through the Opera House hallowed theaters and behind the curtains to step foot on stage and, for the very first time, explore the new recording studio and scenery dock. You might even catch the hard-working crew in action as they set up for a Vivid LIVE musical performance or if you're lucky - catch a glimpse of the artists in the middle of warm-up and rehearsal. Once you've uncovered just a few of the mysteries of the backstage world and had your fill of insider secrets, you'll enjoy a full continental breakfast or dinner after the tour it really doesn?t get more special than that.

The Rocks Dreaming, Aboriginal Heritage Tour
The Rocks Dreaming was developed by Aboriginal Elder, Margret Campbell and is led by Aboriginal guides who have permission to share these amazing stories. The tour gives you the opportunity to discover how the ancient Aboriginal dreaming is still alive within the modern Sydney landscape and how the billion-year-old harbor, marine environment, sandstone strata, waterways, flora and fauna influenced how Aboriginal people lived in the area. Get inspired as you discover the oldest ecology, conservation, sustainability, astrology and spiritual beliefs on Earth today. Connect with Australian skies, lands and waters, and the experiences of 'always walking Country'. Feel empowered by learning how to teach others to navigate Dreamtime pathways whether you?re in the city or out in the bush.

The Sydney Opera House Tour: Celebrating Vivid LIVE
Every year you can see the Sydney Opera House flare up in a spectacular 3D display of color and light for the Vivid Sydney Festival celebrations. Now it?s your turn to be right in the middle of the action. On a Sydney Opera House Tour - Celebrating Vivid LIVE, your nightly one-hour adventure into the heart of Australia's iconic building, begins with an exclusive Vivid LIVE show reel that will immerse you in the history and background of this phenomenally popular event. You?re then invited on a special guided tour of the theaters, foyers and live music venues that make up the Vivid LIVE music program ? including seeing the Opera House Recording Studio. You?ll run your hands over the world-famous shell tiles, take a seat in the elegant custom-made Tasmanian Oak chairs and marvel at the vaulted ceilings of one of the biggest pillar-free chambers in the world. Once you?ve visited areas off limits to the general public and captured photographs from rare vantage points inside the majestic Sydney Opera House, you?ll realize that from the outside you?re only getting half the story. At the end of the tour you?ll enjoy the famous Vivid LIVE Lighting of the Sails firsthand.

Tour & Tasting Plate
You can also decide to add an Opera Kitchen three-tier gourmet Tasting Plate before or after your VIVID Live Tour. There?s nothing more to do than sit back at one of Sydney?s dining hot spots and indulge in a tasting plate for two. The perfect way to experience one of the world?s most stunning icons shine at night.

WILD LIFE Sydney Zoo
WILD LIFE Sydney Zoo lets you step into a world that's totally wild! Have you ever held a cockroach as big as your hand? Come face-to-face with a python? Petted a koala or had birds swoop over your head? Meet the most dangerous bird in the world, the Cassowary, walk on the wild side with the Wallabies and get up close and personal with some of the world's most dangerous creepy crawlies. VIP Guided Tours and Experiences are available.

Breakfast Time at the Zoo
Get a wild start to the day and have breakfast with a koala, a python, and other interesting animals. Take a private guided tour of Cairns Tropical Zoo for a ?behind the scenes? look at where food is prepared for the mammals and reptiles. Feed kangaroos, meet a crocodile and snake and have a photo taken with a koala!

Cairns Hot Air Ballooning
Experience the thrill of hot air ballooning over the rainforest and Atherton Tablelands area. The Blue Pacific Ocean is to the east of the rugged mountains that divide the Outback from the Reef to the west. Tour is also available from Port Douglas.

Cape Tribulation and Daintree Rainforest
Enjoy a day exploring the rainforest, rivers and beaches of Daintree and Cape Tribulation. Cross the Daintree River by cable ferry then onto Alexandra Lookout for panoramic coastal views. Enjoy a river cruise in the heart of the Daintree before a walk in the rainforest with an expert guide. At Cape Tribulation, stroll on the rainforest-fringed beach and to the lookout on the Cape for superb views over the Coral Sea. Lunch is included. Tour is also available from Palm Cove or Port Douglas.

Coral Princess Cruises
Embark on a luxury small ship experience with a 3, 4 or 7 day cruise option that allows you to enjoy the best personalized service and visit areas inaccessible to most vessels due to size. There is as much to do as you want, or as little to do as you like ? snorkeling, guided rainforest walks, presentations by a marine biologist or simply take the time and relax on the sundeck or in the spa (departs on scheduled days).

Diving - Mike Ball Dive Expeditions
Setting standards in the Australian dive industry, with exceptional live-aboard expeditions to the Great Barrier Reef and Coral Sea. Trips suit both novice divers and the more adventuresome diver seeking pelagic fish, deep walls or wreck diving. The dive vessels are roomy and stable with a large well-equipped dive deck, spacious sundeck, al fresco deck and saloon. Dive with a family of giant potato cod, Maori wrasse and moray eels at the renowned Cod Hole. Cruise the turquoise chain of ribbon reefs with pristine coral gardens. Embark on a three to thirteen night dive adventure from Cairns.

Diving - Spirit of Freedom
Offering the best in live-aboard dive cruising to some of Australia?s most iconic and remote dive destinations. Trips of 3, 4 and 7 day duration depart from Cairns to dive the clear waters of renowned sites such as the Cod Hole, Ribbon Reefs and North Horn, Osprey Reef - abundant tropical reefs, rich with marine biodiversity. On board, there are three decks of living space and generous cabins with private bathroom, complemented by first class meals and outstanding service. A sun deck, lounge and bar, and large dive deck houses every convenience to ensure comfort, safety and freedom in your diving.

Kuranda Rail, Skyrail and Tjapukai
Explore the village markets before your World Heritage Rainforest experience with Skyrail Rainforest Cableway gliding just metres above canopy. A visit to both rainforest mid-stations is included where you can enjoy a Ranger guided walk and the Interpretation Centre.

The Bama Way
Join the people who have been the area?s custodians for thousands of years and take in some of Australia?s best natural wonders. You?ll see the Great Barrier Reef Marine Parks, the World Heritage Wet Tropics, Cooya Beach and the National Parks of Port Douglas, Mossman Gorge, Daintree River, Cape Tribulation and Bloomfield River.

Whitewater Rafting
From Cairns, take a short coach ride to the Tully River, where you don wetsuits and board your rubber raft for an exciting and exhilarating ride through the white water rapids. Choose from either a half day Barron River adventure ? perfect for beginners as no experience is necessary or for enhanced excitement try the full day Tully River rafting tour and tackle Grade 3 and 4 rapids. Tour is also available from Port Douglas.


About Swain Destinations
Customizing the travel experience, Swain Destinations is the leading U.S. provider of completely personalized exotic vacation experiences. Since 1987, Co-Founders Ian and Linda Swain, and their dedicated team of destination experts have offered American travelers the opportunity to design distinctive trips to intriguing international locales, including Australia, New Zealand, the South Pacific, Asia, India, and Africa. From adventure-packed trips to leisurely getaways, Swain Destinations curates itineraries based on each individual's travel preferences. Dynamic experiences range from a chef's table dining extravaganza on Hayman to a safari journey across the East African Plains.